ST. KURIAKOSE ELIAS CHAVARA
Bl. Kuriakose Elias Chavara the pioneer of education, tried todo away with the caste distinction in Kerala and make it possible for all the children irrespective of caste creed to sit together and study. He first used the Pallikkoodam in Malayalam Language.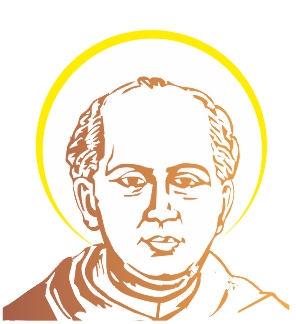 1. Feb.10, 1805 Born in Kainakary, Kerala
2.Feb.18, 1805 Baptized at Chennamkary Parish Church
3.Sept.08, 1805 Dedicated to the Blessed Virgin Mary at Vechoor Church
4.1810 - 1815 Started primary education in Asan Kalari at Kainakary
5.1816 – 1817 Received early seminary formation from his Parish Church at Chennamkary
6.1818 Joined the Parish Seminary at Pallipuram
7.Nov.29, 1829 Chavara was ordained as priest at Arthunkal Church
8.May 11, 1831 Along with Fathers Thomas Palackal and Thomas Porukara, he founded the First Indian Religious
Congregation for Men presently known as CMI
9.1830 Popularized Sunday Homilies and introduced Retreats for Priests and Laity in Kerala with the other two founding fathers
10.1833 Established the First Syro Malabar Common Seminary with the other two founding fathers at Mannanam
11.1838 Started the Way of the Cross at Mannanam
12.Feb.16, 1844 Appointed as Malpan (Tutor of Sacred Subjects), Examiner for candidates for Priesthood and was authorized to give patents to the newly ordained to hear confessions and preach in Churches
13.Jul.03 1846 Founded the first press and publishing house of Syro-Malabar Church at Mannanam
14.1846 Founded the First Sanskrit School in Kerala at Mannanam, opening its doors to children of all castes
15.1853 Started the First Syro-Malabar Catechumenate for faith formation at Mannanam
16.Dec.08, 1855 Became the first professed religious priest of the Indian Church
17.1856 – 1858 Wrote 10 Eclogues (Shepherd Plays) and introduced them in the novitiate at Koonammavu Seminary, the first play written in the Indian language
18. Jun.08, 1861 Appointed the first Vicar General in the Syro-Malabar Church after the time of Archdeacons
19. 1861 Took leadership in protecting the Syro-Malabar Church from the schismatic intruders Bishop Roccos
20. 1862 Authored the first Malayalam narrative poem "Anasthasyaude Rakthasakshyam"
21.1862 – 1869 Edited the Divine Office for priests; compiled and composed Liturgical Rubrics, Thukkasa, Liturgical Calendar, set the Office of the dead for Priests, laity and children of the Malabar Church
22.1864 Popularized the new May Month Devotion of Blessed Virgin Mary from Mannanam
23.1864 As Vicar General under Bishop Bernardenose Bachanilli, implemented 'A School for Every Church' in Kerala 24.Feb.13, 1866 In collaboration with Fr. Leopold Maria Beccaro OCD, an Italian Missionary, founded the first 25.Indian Religious Congregation for women now known as CMC, at Koonammavu
26. Feb.15, 1866 Started the 40 hours Eucharistic Adoration in Kerala at Koonammavu
27. Jan.02, 1868 Supported by Fr. Leopold OCD, started the first Boarding House and School for Girls in Kerala at Koonammavu
Feb.13, 1868 Prepared the first Instruction Manual for Christian families, 'A Testament of a Loving Father' – the first-of-its-kind in the Church
1869 Founded the first lay charitable organization, the 'Confraternity of St. Joseph for Happy Death' at Kainakary, Kerala
1869 Founded the first Home of Charity, 'Upavisala' for the sick, old and destitute at Kainakary, Kerala
1869 Initiated the Catholic re-union movement of the 19th century
Jan.03, 1871 Breathed his last at the age of 65 at St. Philomina's Monastery in Koonammavu
May 24, 2021 Mortal remains re-entombed after 18 years at Mannanam, the Mother House of the Congregation he founded
Dec.21, 1936 Canonization process started at the Congregation level
Dec.09, 1955 Canonization process officially started by Changanaserry Arch Diocese
Apr.07, 1984 Declared Venerable by Pope John Paul II in Rome
Feb.08, 1986 Beatification at Kottayam, Kerala by Pope John Paul II
Dec.20, 1987 Govt. of India released a postal stamp in respectful recognition of his social reforms
May 04, 2021 Govt. of Kerala unveiled a painting of St. Chavara at the Kerala Sahitya Academy Hall at Thrissur honouring his contributions to Literature and refinement of the Malayalam Language
Honoured the former President of India, Dr. A P J Abdul Kalam with Chavara Sanskruthy Puraskar. Dr. Kalam delivered Chavara Memorial Lecture and inaugurated the Lecture Series on National and International platforms
Nov.23, 2014 Declared Saint by Pope Francis at Vatican
1. Children, you are God's investment in the hands of your parents.
2. The Children who have love of God and fear of God will love and respect their parents.
3. Trust your mother, God will hear the mother's request like the baby's request.
4. Wisdom and purity should be spiritual food like food for natural growth.
5. Go to school regularly and recall to mind what is taught during the week.
6. Laziness fosters evil habits.
7. Let your friends be those who love God.
8. Good friends will make you good.
9. Keeping of bad books is like hiding fire in straw.
10. Regular reading of good books and meditating on it, will illumine the mind.
11. Attain punctuality by means of a regular time-table.
12. You angels will be turned to devils, if you fall into evil situation.
13. You aught to reach home before evening and take part in the evening prayers.
14. Your attire and sanctity ought to be according to your age.
15. Immoderate attire will only lead you to evil.
16. Let your ability be in piety regulating your life and controlling your senses.
17. You ought to love truth and justice.
18. What you earn by deceit and theft will melt like snow.
19. Your profession must be according to your knowledge and age.
20. Let there be no day in your life in which you did no good to others.
21. Let not the insult and quarrels of others be a cause of hatred and enmity.
22. Do not insult or trouble the poor.
23. God decides your vocation and you choose it.
24. When you choose your partner in life, choose one who has a good character and good manners.
25. Even if you are grown in age and maturity you have to accept your parents and submit to them.
26. Do not hate your own brethren.
27. It is the duty of children to look after their parents.
28. Do not be the cause of your parents shedding tears on account of you.
29. The humble man is the greatest among men.
30. Since you belong to God, you should be given back to God.
St. Kuriakose Elias, we your children bow before you, who are chosen by God to give new life to the church in Kerala. God was pleased with you for like St. Paul who fully co-operated to the will of God, lived a life from which the Grace of God was never lost in the least. Because God as adorned your soul with lovely virtues and glorified you in heaven and made you done august deeds for the glory of God and for the salvation of souls, we offer in union with you praise and worship to God Loving Father, like the fiery prophet St. Elias who burned with zeal for God, you spent all your life span for the salvation of souls, now in imitation of your life, obtain for us the Grace of God to live our lives pleasing in God's sight and with it now grant us the blessings we beseech ……………….. through your intercession. Amen
1 Our Father, 1 Hail Mary, 1 Glory