Chavara Institute of Management Studies
As Tourism industry is one of the fastest growing sectors worldwide and it's rapid growth is creating numerous opportunities for young men and women with drive, ambitions and farsightedness.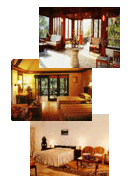 Chavara Institute of Management Studies has been in existence since 1997, with the objective to provide quality candidates in the field of 'Tourism' and 'Hotel Industry'. The institute is dedicated to provide high quality educational programmes and services, so as to meet the needs of the hospitality industry. The management has designed the courses keeping in mind the changing trends and needs of leading hotels in the country. The courses formulated at the institute is a true blend of theoretical, practical as well as management subjects in the Hotel Management. In addition we focus in other aspects such as Personality Development, Improvement in communication skills, Discipline and Computer Operations.
Contact:
Chavara Institute of Management Studies
Chavara Cultural Centre
Near South Rly. Station
Cochin - 682 011
Kerala, India
Ph: 91-484-2377366, 2378920