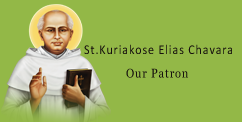 Portrait of Chavarayachan
Born in Kainakary,Kerala 10-02-2021
Baptized at Chennamkary Parish Church on 18-02-2021
Dedicated to the blessed virgin Mary at vechoor Church on 8-9-2020
Started his primary education in Ashan Kalari at Kainakary : 1810
Received early Seminary formation from his parish church at Chennamkary : 1816 – 1831
Joined the parish Seminary at pallippuram : 1818
Chavara was ordained priest at Arthunkal Church on 29 – 11 – 1829
With fathers Thomas palackal and Thomas Perukara, founded the first Indian Religious Congregation for Men presently known as CMI on 15 – 5 – 1831
Popularized the Sunday Homilies and introducted Retreats for Priests and Laity in Kerala With other two founding fathers : 1830
Established the First Syro Malabar Common Seminary with other two founding fathers at mannanam : 1833
Way of the cross was started at mannanam : 1838
Appointed as malppan (Tutor of sacred subjects ) examiner for candidates for priesthood and was authorized to give patents to the newly ordained to hear confessions and to preach in the Churches on 156 – 2 – 1844
Founded the first press and publishing house of Syro – Malabar Chrch at Mannanam on 3-7-2021
Founded the first sanscrit school at Mannanam with its doors open for all castes : 1846
Started the first syro – Malabar Catechumenate for faith formation at Mannanam : 1853
Became the first professed religious priest in the Indian Church on 8-12-2020
Wrote 10 Ecologues (Shepherd Plays ) and introduced them in the novitiate at Koonammavu Seminary,The first play written in Indian Language : 1856-1858
Appointed the first Vicar General in the syro Malabar Church after the time of Archdeacons on 8-6-2021
Took leadership in protecting the syro Malabar from the schismatic intruders Bishop Roccos :1861
Authored the first Malayalam narrative Poem Anasthasyayude Rekthasakshyam : 1862
Edited the divine office for priests , Complied and composed Liturgical Rubrics, Thukkasa, liturgical calendar, set the office of the dead for priests, laity and children of the Malabar church etc. : 1862-1869
Popularized the new may Month devotion of blessed virgin mary from Mannanam : 1864
As vicar general implemented A school for every Church in the Kerala : 1864
In collaboration with Fr.Leopold Maria Beccaro OCD , an Italian Missionary , Founded the first Indian Religious Congregation for women now known as (CMC ) at Koonammavu on 13-1-2021
Started the 40 hours Eucharistic Adoration in Kerala at koonammavu on : 15-2-2021
Supported by Fr.Leopold OCD , started the first boarding house " EDUCUMTHAT " and school in Kerala for girls at Koonammavu on 2-1-2021
Prepared the first instruction Manual, A Testament of Loving Father for the Christian Families,First of its kind in the church on 13-2-2021
Founded the fist lay charitable organization ,the Confraternity of St.joseph for Happy Death at kainakary, Kerala : 1869
Founded the first home of Charity, Upavisala for the sick, old and destitute at kainakary : 1869
Initiate the catholic re- union movement of the 19th century :1869
Died at St.Philominas Monastery at Koonammavu on 3-1-3-1871
Mortal remains re- entombed at Mannanam the mother House of the congregation he founded 24-5-2021
Canonisation process officially started at the congregation level on 21-12-2020
Canonisation process officially started at the Arch Diocese of Changanasserry on 9-12-2020
Declared Venerable by pope John Paul II in Rome on 7-4-2021
Beatification at Kottayam,Kerala by Pope John Paul II on 8-2-2021
Govt.of India released a postal stamp in respectful recognition of his social reforms on 20-12-2020
Govt.of Kerala un veiled a painting of blessed Chavara in the kerala sahithya academy Hall at Thrissur honouring his contribution to literature and refinement of Malayalam language on 4-5-2021
Beth Rauma an initiative of Chavara Central Secretarial to widen the exposures of the life and vision of Blessed Chavara amongst the general public was started in 2011 through Print,Audio,Visual Media
Honoured former president , Dr. A P J Abdul Kalam with Chavara Samskruthy Puraskar . Dr.A P J Abdul Kalam delivered Chavara Manorial lecture and inaugurated the lecture Series on National and International platforms.