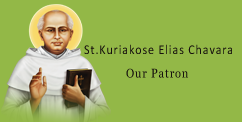 CFWC & Counceling Centre
Chavara Family Welfare centre / ChavaraMatrimony.com has been functioning since 1996 as a unit of Chavara Cultural Centre, Kochi which is managed by the Congregation of CMI Fathers.
The Founder of this congregation is Blessed Kurikose Elias Chavara whose vision was to "build good families which resembles the Heavenly abode on earth." thus to serve God through service to man and nature. It is this motto of our Founder which earned the trust of every Christian denominations of the community which made us the World's No.1 Christian Matrimony Data Bank. Our services are woven around the world through an ethical website
http://www.chavaramatrimony.com
We are totally against the concept of commission based Services and the role of middlemen in marriage alliances. We collect only one time registration fee which is valid for 1 year or up to the marriage which ever occur first.
As part of our responsibility to the society, we organize for our registered candidates seminars and counseling sessions on family welfare, Pre and post marital counseling, Chavara Mega Marriage Meet, bimonthly Chavara Family Meet. We also provide Chavara Family News magazine - Photo Directory, m.chavaramatrimony.com mobile version. Online Chat facilities, Photo match etc. which makes their search fruitful.
We are the first ISO 9001-2008 certified matrimonial organization in India.
Our well equipped matrimonial data bank helps very many youngsters to find their life partners of their dream with ease. To provide a personalized service to Candidates and Parents we have 14 Branch Offices all over Kerala and One branch at Bangalore with nearly 70 professionally trained and committed workforce. At present our data bank has more than two Lakh profiles from all denominations of the Christian community.
The Success of this Organizations is the result of the vision and determination of our Director Rev. Fr. Roby Kannanchira CMI, Assistant Director, Rev. Fr. Jose Panampuzha, Executive Director Mr. Johnson C. Abraham, based on the motto of our Founder Bl. Chavara " A good Family resembles the Heavenly abode".